Bathtub Refinishing
Few things wash away your day's worries like a good bathtub. But what if your bathtub looks worn out and keeps you from relaxing? At first glance, buying a new bathtub might seem like a good decision, as you can get one for as little as $ 200-300.
But when you factor in the removal of the old tub, the eventual relocation of plumbing fixtures, and other plumbing work that might accompany the replacement, the cost of dismantling the tub can easily run up to $ 3,000. Also, modern models are not particularly durable, as well as resistant to wear and tear.
It's time to think about re-finishing your bathtub. With the help of innovative methods and good materials, OBR Tub Gloss specialists will return your product to its original appearance!
In our work, we use only the best materials that have proven their durability, environmental friendliness and whiteness.
Some of the advantages of bathtub restoration are:
Almost complete absence of chemical odors

Durable coating with a service life of more than 10 years

Waterproof coating

Our coating is 10 thicker than 3 coats of conventional spray and is about 1/16 inch thick.

Fast work process lasting only 3-4 hours

No need to dismantle the old bathtub

Safe, toxic-free materials used

Fast drying – 24-36 hours
Service features
We believe in our product as well as our workmanship, and will stand behind it 100%.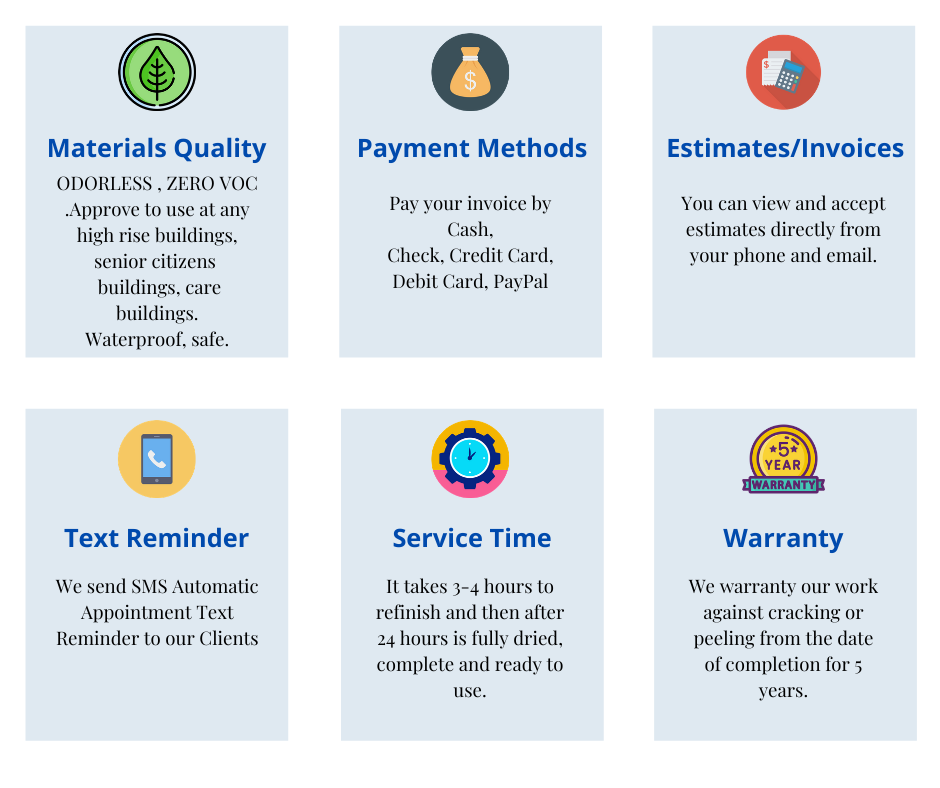 ODORLESS
No poisonous smell. Nearly zero volatile organic matter. We do not use any sprays or aerosols, and there will be no toxic fumes floating around your bathroom before, during or after the polishing process. We use custom pour-over technology.
HIGH DURABILITY
Shockproof - much stronger than conventional spray, it is very difficult to chip. An accidentally dropped shampoo bottle, a child's toy or something else that is commonly used in the bathroom won't chip away the finish.
SMOOTH, MIRROR-LIKE FINISH
No orange peel, no smudges, absolutely smooth bath surface with a mirror shine.
WARNING
Beware of vendors charging really low prices for tub refinishing/reglazing ($250.00 or less). Prices this low mean low-quality work. Shortcuts are taken, giving an inferior finish and often with paint over-spray in the house and on furniture. Warranties are claimed but frequently not honored. We've been hired to re-do many jobs for people that fell for these "ultra-cheap" companies. Remember: It's always easier and cheaper to pay a fair price and get the job done right the first time. We're not the cheapest nor the most expensive tub refinishers in town. We ALWAYS provide quality work that we stand behind with our 5-year warranty.
Don't hear from us only. Hear others too.
Grantimas maximas
4 weeks ago
Mike was extremely professional while reglazing our tub! He kept his mask on the whole time, and made our family feel at ease. He was very clean, on time, and professional. We highly recommend him and his company anytime you have a reglazing need. Our tub started as a 60s pink, and ended with an updated white high gloss finish!
Shalonda Laurel
8 weeks ago
Contacted OBR Tub Gloss on Christmas day not expecting to receive a call right back but I did. Anton came over the next day to restore my tub and it looks amazing. He did such a good job he is coming back next week to do the other one. I would definitely recommend him!!!!
Julie Colona
1 weeks ago
Very professional and fantastic workmanship! Provided a competitive quote to refinish our bathtub, completed work timely and at the quoted rate. I would recommend their services.
Tracy Lomnick
6 weeks ago
The service provider arrived on time and was very polite. He painted my bathtub, the work was completed in the time specified, and I am very pleased with the outcome. It looks brand new!!!
Maryann Bellmore
2 weeks ago
Would highly recommend! I had a crack throughout my shower floor and it was stained pretty bad. The man at OBR Tub Gloss did and excellent job on the restoration AND it was a great price! SUPER helpful for a young homeowner. Super professional and takes his time to make sure the job is done right! No hidden fees either! I am blown away with how good it looks along with the amazing price point!
Restoration of bathtubs, sinks and showers
Bathtub restoration is what we specialize in. Let us take your OBR Tub Gloss and make it like new again!
Repair of chipping and small dents
Got chips, nicks or scratches? We can take care of them all! Our restoration takes care of those, unsightly blemishes that may be hard to get rid of.
Repair of through-holes
Have Bathtub Restoration St. Louis remove the rust from your old porcelain bathtub and make it like new again!
Rust removal
Rust is the main enemy of steel bathtubs. If this process is not stopped in time, then the next step will only be to replace the bathtub.